The Library of Things is a collection of non-traditional library materials including gadgets, tools, games, kits, electronics, and more — all available to check out for free with a library card. Need something for a one-time project or want to try before you buy? Explore the collection and discover your next new Thing to borrow!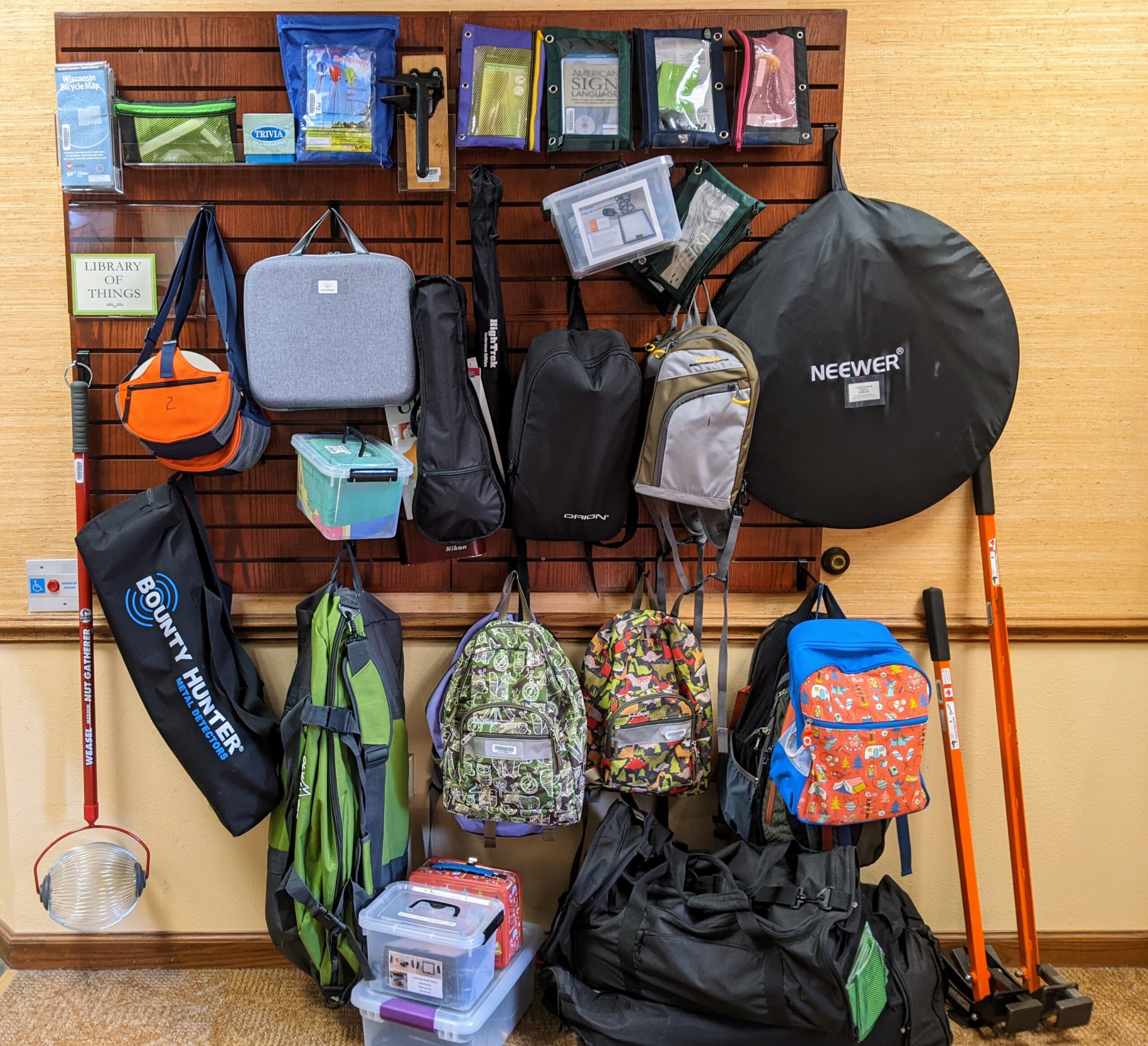 Outdoor Adventure and Fun
WSO Bird Monitoring Kit: Binoculars (15), bird identification books, other materials
Binoculars: Nikon 8×30 field binocs with case
Disc Golf: 2 sets 
Pickleball paddles: 2 sets with indoor and outdoor balls 
Portable Telescope: 70mm GoScope II
Spotting Scope Telescope–Nikon Fieldscope II in Olympia duffle bag
Bounty Hunter Tracker IV Metal Detector
Themed Outdoor Adventure Backpacks: 4 adventures for kids to explore
Trekking Poles
Wisconsin Bicycle Map (Eastern, Northern, Southern, Western)
Camping Lunchbox: Game
Camping Backpack for adults: includes solar phone charger and hammock
Hickory Nut Roller
Hickory Nut Cracker
Learning
American Sign Lanuguage Kit: DVD and practice cards
Ukulele-Learn to Play Kit: Lohanu Soprano Ukulele and instruction booklets
Games and Puzzles
Jigsaw Puzzles: 250-2,000 pieces, many options to choose from
Marbleworks Marble Run
Sonyabecca Parachute: 12-feet diameter with 12 handles
Wisconsin Trivia 
Garden Tools
Soil Analyzer: tests soil pH, temp, and fertility
Garden Sunlight Calculator
Garden Tool Sharpener
Woody Plant Removal tool: Classic and Junior Extractigators to remove buckthorn and small shrubs
Home and Entertainment
Kill A Watt: Electricity usage monitor
Thermal Leak Detector
Bright Light Therapy Lamp: 2 kits to help alleviate Seasonal Affective Disorder
Wifi Hotspot (Mobile Beacon/T-Mobile) hotspot, charger, protective case
Pop-Up Green Screen
Epson VS260 Projector: projector, remote, power cable, HDMI cable, instructions, carry case
DVD Player
Digital Radon Detector: 2 sets
Kodak Slide N Scan Digital Film Scanner: Converts color and black and white negatives (135, 110, 126) and 50 mm slides (135, 110, 126) to JPEGs. Convenient, easy-loading film and negative adapters and inserts; 5″ color LCD screen; computer not required; 14.0 megapixel resolution.